Antibes Yacht Charter Planning Guide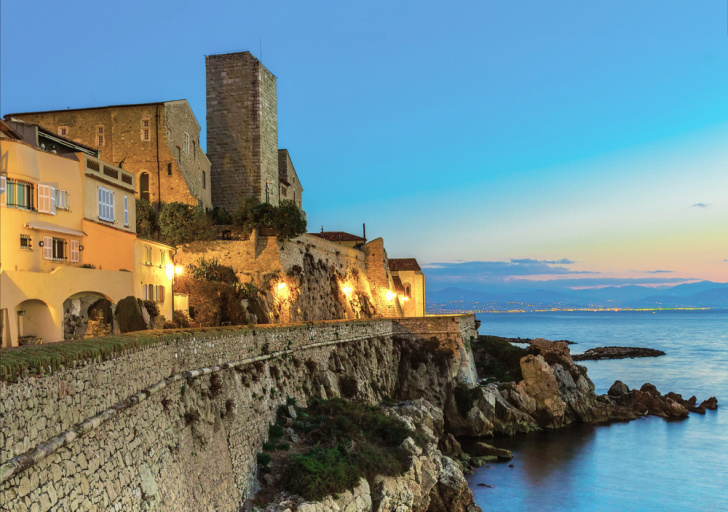 Antibes Yacht Charter Guide - Chartering a Yacht Antibes and Port Vauban in the French Riviera for Holidays and Corporate Events
About Antibes | Antibes Yacht Charter | Port Vauban Map | Our Antibes Charter Yachts
About Antibes
Both an ancient Greek and Roman fortified town, Antibes originally was the only large town between Italy and Marseille. Today Antibes is a bustling French Riviera port town and is also home to the biggest marina in the West Med and some of the most stunning super yachts. The recent announcement of the new harbour remodel, "Project Vauban" puts it at the forefront of infrastructure and promises charterers a modern and culturally integrated yachting destination.
The two most notable landmarks in Antibes are the Chateau Grimaldi, which today houses the Picasso Museum as well as several others, and the imposing Fort Carre, with its extensive ramparts. Antibes offers many old winding streets and town squares, excellent museums, sandy beaches, a wide variety of restaurants - in short plenty to do for everyone.
Port Vauban, the main port of Antibes, is the largest pleasure port in Europe, offering 2400 berths. It's home to an impressive range of SuperYachts, Mangustas, Benettis, Rivas, Sunseekers and Princesses, but also sports a strong sailing culture. We recommend a walk along the Super Yacht Quai, where you are almost guaranteed to see several of the world's top 100 largest super yachts. It has recently been announced that the port will undergo a 25-year project to make it yet more the yachting hub of the Western Mediterranean.
Cap d'Antibes, a craggy peninsula jutting out into the Mediterranean just west of the town, is home to many exclusive villas and the famous Hotel de Cap Eden Rock, the hotel of choice for the rich and famous in the Cote d'Azur. Maybe better to anchor offshore and pull up for lunch at the famous Eden Rock restaurant, or why not consider the beautiful Keller Plage restaurant in the bay of Cap d`Antibes. We have put together a restaurant guide for the most popular restaurants along the coast, there is a wide variety of tastes and atmosphere, so check it out here.
You will find the beach town of Juan-les-Pins on the west side of Cap d'Antibes, a nice French seaside resort, offering sandy beaches, plenty of restaurants and a good night life known for its jazz. There are beach clubs lined down, with a more relaxed vibe than those in Cannes. Have a look at our beach club guide for a wide array of options.
Antibes Yacht Charter
Antibes is the perfect port to begin your French Riviera charter, be it for a day to Monaco or St Tropez, or an extended Riviera holiday. It has every type of boat available, excellent facilities, and is central to all of the attractions of the French and Italian Riviera. Have a look at one of our itineraries combining both of these beautiful destinations for a mixed array of activities and scenery.
We have a number of itineraries available to match your charter needs. If you would like gorgeous cliffs, rock formations, nature in all of its glory, you'll want to head south for the Esterel, St Tropez, Cassis, and Porquerolles Island. If you want the sun, shopping and sex appeal of the Riviera, you'll want to visit Cannes, Monaco, St Tropez and Portofino. You can see one luxury itinerary below that gives you a little bit of both for a perfect cruising holiday.
Antibes Luxury Yacht Charter Itinerary
Day 1: Arrive afternoon Nice Cote d'Azur airport, transfer to your Yacht berthed in Port Vauban, Antibes.
Day 2: St. Tropez for lunch at Club 55 and a day at a private club on the famous Pampelonne Beach
Day 3: Porquerolles for swimming, biking, and enjoying the peace and quiet. Dinner at Le Mas du Langoustier
Day 4 : Iles Lerins for relaxation, seeing Cannes, and the cell of the Masked Man
Day 5: Villefranche to see the beautiful port and explore the old town
Day 6: Monaco for sightseeing and a try at the Casino
Day 7: Nice for a visit to the old town before transferring back to the Airport
You'll certainly come home with memories to last a lifetime! We also have personalised a luxury 4 day itinerary for those looking for the finest areas available on the French Riviera.
You can also plan many types of specialty charters, such as aboard a classic sailing yacht (we'll even set up a mini regatta for you), corporate entertainment cruises, and a wide variety of team building and celebration events. See our Event Yacht Charter Guide. Being right next door to Cannes, who hosts a multide of fabulous events.
Map of Port Vauban
Here's an Aerial Map of Port Vauban, Antibes and Cap d'Antibes. Zoom in to see the layout of the town and port, zoom out to see the French Riviera.
Our Antibes Charter Yachts
We have hundreds of great charter yachts for you in Antibes - we can find you pretty much any type of charter yacht you're looking for, from a Riva boat for a day charter, to a Mangusta, to a luxury Super Yacht. Sailing Yachts, Motor Yachts, and Catamarans, both crewed and bareboat. Click to see our Antibes Charter Yachts and browse through the ones your want, or just contact us.
Other Articles of Interest
Charter destinations